Jauntlet Privacy Policy
November 3, 2014

Registration

When you register and use Jauntlet, you submit various information including your email, location, travel plans, messages, comments, check-ins, and photos. This is stored indefinitely and you can edit and delete it from various pages including "edit my info" and "create and share travel blogs". You can completely delete your account by going to "edit my info" then "delete".

Emails

When registering, you are opted in to receive emails from Jauntlet. You can disable this by going to "edit my info" then "email" or by following a link in an email received.

Cookies

Jauntlet uses cookies to keep you logged in and to store data to perform necessary functions on the site. Cookies are not used to track you.

Analytics

Analytics are used to track the aggregate usage of Jauntlet. Individual users are not tracked.

Content

Jauntlet will not sell or use your content for purposes outside of Jauntlet. There are three main types of content that you create on Jauntlet and each has its own privacy settings.

1. Blogs

Blogs are public by default. You can easily make a blog private by clicking the "privacy" button when editing the blog. In the privacy settings, simply select "make blog private". You control who can see your blog by entering the emails of people whom you want to be able to see it. They will need to be logged in to Jauntlet with an account using these emails to see your blog.

In order to make blogs truly private, you will not be able to emebed private blogs on other sites with the Flash or HTML widgets. The RSS feed for a private blog will not work.

Some metadata and the route image are always exposed publicly in order to allow you to share your blog on sites like Facebook and Twitter.

2. Check-Ins

Check-Ins have a separate privacy setting which you can access under "edit my info" then "privacy" on the web and under "more" and "privacy" on the mobile apps. You can decide to show your check-ins only on your blog. If not, they are also shown on your profile and various aggregate pages on Jauntlet.

The images from your check-ins are always publicly available but the URLs to them are obfuscated and would be difficult for someone to guess or find.

3. Profile

Your profile is partially visible publicly, and fully visible to logged in users. You can block individual users from viewing your full profile and messaging you with the "block" button on their profile page.

Promotions and Demos

Some promotional material like screenshots may contain submitted content. Sometimes public demonstrations of Jauntlet may show submitted content. These will respect the privacy settings at the time.

Disputes

If you have any disputes with this policy, please contact us at info AT jauntlet DOT com and we'll do our best to provide you with a prompt resolution.

Final Note

While a best effort is made to comply with this policy and your settings, there may be a bug or flaw that a nefarious person could use to access your private content. In the end, the best advice is always do not upload anything that you don't want the world to see even if you make it private. Go traveling, have amazing experiences, and then share them on Jauntlet.


Take your selfies to the next level with this small flexible tripod that can attach to many objects. It will make it through airport security unlike metal selfie sticks and tripods.
Carry this travel pack system with main pack and removable daypack. Excellent suspension for maximum comfort on long walks. Without the daypack, it's carry-on sized for those shorter trips.
Top Travel Destinations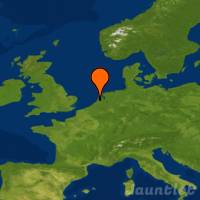 Netherlands
1 traveler coming here
19 locals living here
United States
2 travelers coming here
14 locals living here
Jauntlet Mobile App
Get Jauntlet for iOS or Android. For other devices, go to jauntlet.com on a web browser.